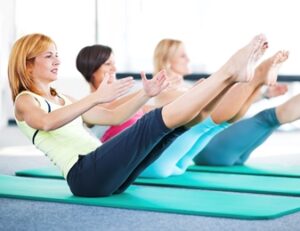 Pilates classes will be available from June 4th, 2019 – Book now to avoid disappointment
Zone 22 now offers a range of pilates classes run by Jill Milburn, a level 3 mat pilates instructor with full of experience in teaching pilates.
What is Pilates?
Pilates was developed by Joseph Pilates in the early 20th century. Pilates developed a series of exercises to strengthen the mind and body believing that mental and physical health work hand in hand. He accompanied his exercises with equipment 'apparatus'.
The benefits of pilates include: improved flexibility, improved posture, mind/body connection, improved core and back strength, balancing the muscle strength on both sides of the body, improved physical co-ordination and balance, improves sport performance and ease of the joints.
For further enquiries or to book, click here to Contact Us.
Jill Milburn Pilate Classes
Adult
Regular adult pilates classes run at Zone 22 with Jill. The classes are friendly, welcoming and suitable for men, women, beginners and improvers over the age of 16 years old. Spaces are limited and must be booked and all equipment is provided.
Junior Jilates
Jill delivers children's pilates classes at Zone 22. These sessions are available to book during term time and the school holidays.