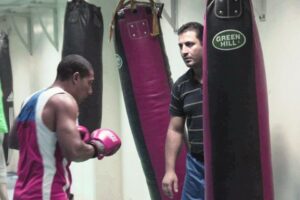 Zone 22 hosts a large floor area, ideal for classes of martial arts, self-defense and fitness alike. Zone 22 currently offers a range of classes centered around martial arts such as Kickboxing, Muay Thai and Krav Maga Self-Defense (as seen on television) in addition to suited fitness classes. These classes are taught by Martial Arts and Fitness Master, Leo Ghasemi. He was awarded best kickboxing instructor in UAE for four years in a row and has over 25 years of experience in martial arts.
The room is available for both daytime and evening. For more information or to book now, click here to Contact Us.
Martial Arts Classes for Children and Adults
Develop new skills and gain confidence
Get in shape and improve fitness levels
Feed your competitive edge
It's excellent stress relief and you'll make new friends
We offer a full range of classes to suit all ages and abilities, no matter what your reason for training. For children and adults alike, we aim to increase confidence, focus, fitness and physical well-being, whether you wish to get fit or pursue a competitive career!